Grand Rapids – 20 South Division
A new era for Dodds Records
Audria Larsen | Thursday, January 16, 2014
Reverend Charles Preston Smith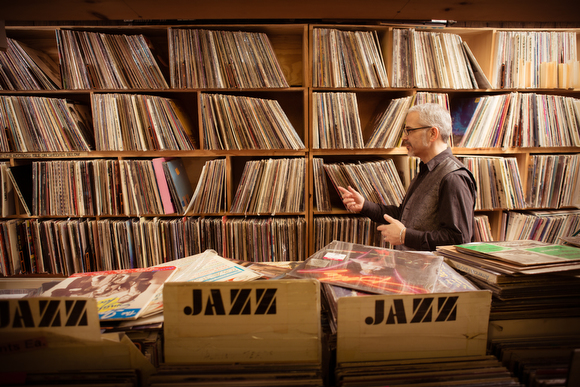 In a combination of personal nostalgia, analog inclinations and the desire to preserve cultural history in Grand Rapids, Dodds Records, local mainstay for almost five decades, will persist, thanks to the efforts, passion and fervor of Reverend Charles Preston Smith. Grand Rapidian, ordained minister and front man to the local rock outfit the PotatoeBabies, Smith can spend hours regaling eager ears about the time he has spent at Dodds and why a simple glance at a record sleeve will send him into a reverie of memories and musical connections.
"I just want this place to be here and be a museum," said Smith. "That's how I became a part of this."
The unassuming building, nestled on Division Avenue just south of Fulton Street, can be easy to miss. But purveyors of vinyl record albums, longtime residents and the occasional shuffling itinerant know the place well. Dodds is to records as Argo's in Eastown is to books, an above ground treasure trove of suspended time and hidden memories. "If you've been here [in the past], this is how it looked," said Smith, the new owner and self-made conservator of the shop. "You can't tell, but it's cleaner."
Though the shop's transition is still a work in progress, Dodds Records is once again open for business while Smith continues to sort and excavate the accumulation of over 30 years' worth of inventory and forgotten gems, entrusted to him by Gerald Dodds himself. "I started going through the cassettes and I think, oh my god I have this," said Smith. "And actually talking to you about it, I get goose bumps… When I grab an album I say 'OK, I remember eleventh grade, my high school girlfriend.' Or, 'Oh, Kool and The Gang' – it's another example of a flood of memories."
Smith's history with – and recent acquisition of – Dodds is somewhat unusual. About three years ago on Record Store Day, celebrated annually by vinyl purveyors across the nation, Smith strode up to the store with a slew of musicians, including his group PotatoeBabies. He walked into Dodds with a power cord asking for an outlet. "I said 'can I plug this in?'" Smith explained. When Dodds asked why, Smith said, "I've got three bands out here and I've got a PA out on your sidewalk."
As the story goes, Dodds asked why the bands were there. When Smith said, "It's Record Store Day," Dodds replied, "You know, it's record store day here every day." From that day forward, Smith repeated this annually, always popping in unannounced.
"This last year, two months passed and I get a phone call from his family [asking] 'Are you the guy that climbed up on the roof for Record Store Day?'" Smith said, thinking, "Now I'm in trouble." But, citing Gerald's age and declining health, Dodds' relatives we're looking to pass the beloved shop on to a worthy caretaker. After successful negotiations, Smith has taken on the rental property along with its contents.
With some research and found documents, Smith learned that Dodds purchased Cole's Record shop in 1951. Over the following 30 years, Dodds operated out of a variety of locations around downtown Grand Rapids, and briefly in Kalamazoo, until finally settling into the current location at 20 South Division Avenue in 1981. "When the family contacted me they said, 'Why is it you think you should have this?' My only thought was there's Amway, there's Van Andel and there should be Dodds. So why can't it be a museum?" said Smith. "My high school girlfriend, she gave me a 45… it was from here. All these years I never would have thought, yeah I'm gonna be this guy."
Smith and his modest team of avid volunteers have estimated that the space contains around 20,000 vinyl records, 10,000 CDs, 5,000 cassettes and roughly 1,000 45s. But he joked that he only found three 8-tracks in the entire place, so his sister happily obliged and sent over her small collection for good measure. "I don't think I've even scratched the surface of what I want to accomplish with this," he said. "What I think I've done is cleaned the basement, cleaned the back room, started sorting and have a general [plan]." One thing is for sure: the new Dodds will be less of a commercial venture and more of a shrine – a place for memorabilia, creative genre sections and a monument to local history. "The talking I've done with Gerry, he seemed to know more about West Michigan. He was always fun to talk with."
In the process of sorting, Smith and his helpers have discovered countless albums still bearing stickers from now-defunct shops that used to thrive in the area, like Meijer Thrifty Acres, Crazy Larry's, Believe in Music and even the old Herpolsheimers, which was a marvel in its day. Naturally, you can now see these records displayed together and muse on forgotten times. Other finds include a Fountain Street Church album from 1965, Creston High School's Marching Band from 1969 and even an old Amway album titled "Sing Out For Free Enterprise." "The funny thing is, my local section is not going to be anything newer than ten years ago and most of it is probably from 40 years ago," Smith joked.
Moving forward, Smith's vision is to eventually clear out the center of the store, pop a small stage in the corner and create a space to linger and learn, to hang out and rock out. He described ideas like bringing young school children in to experience operating a turntable, or renting the space out for private events. An inquiring party wanted to host a 60th birthday bash there. Smith enthusiastically mused about pulling specific music together for such events and let party goers swap out records as they please.
"I think ultimately, the money made here is going to be more of that than product leaving," said Smith. "I bet only about 50% of this stuff is going to be for sale, it's just too neat [and] it's hard to part with the memories."
As Dodds slowly evolves into a new era of ownership, what is clear is that the walls will be covered in choice goodies, relics of the past and hilarious juxtapositions, like the pop star Tiffany's baby-faced first album cover placed next to a provocative cover shot of her from an old gentleman's magazine, along with a wacky array of PotaoeBabies mementoes, of which there are plenty as Smith's popular band hits the 25 year mark this year. "Maybe finally I can park a car in my garage. I've got a two stall garage that kind of looks like this," Smith said, gazing around the shop. Other novel touches that can be enjoyed around the clock include the "Vinyl Cam" that live streams a spinning turntable, complete with sound, viewable on the store's website and the "TeleVinyl" monitor in the storefront window that plays old movies and cartoons at night. "I'm sure every time someone comes in here it's going to be a little different," said Smith.
Lately, Smith spends most of his evenings and weekends working on the store, often until midnight. Official hours of operation are Wednesday and Thursday, 6:00 p.m. to 9:00 p.m. and Saturday 12:00 p.m. to 4:00 p.m. But his direct phone number is posted on the website (www.doddsrecordstore.com) and he encourages eager patrons to give him a call or a text. Because chances are, if Smith is at Dodds he will welcome you in.
"I turned 50 this year. I didn't go buy a Lamborghini; I bought a record store." said Smith.
Audria Larsen is a freelance writer, entrepreneur and professional entertainer. Her work has been published in Rapid Growth Media, Revue Magazine, Michigan Blue Magazine and Hooping.org. She is the founder of Audacious Hoops, Grand Rapids' original "hula" hoop company and produces a myriad of art and entertainment ventures.
Photography by Adam Bird
Facebook Page: Dodds Record Shop: Rev Charles' Museum of Music and Memorabilia
Dodds Record Shop is now at 808 Bridge Street N.W. Rev Charles Preston Smith You can call him (616) 536-1951