The Musical History of the Kingtones can be divided into 3 Periods:
The Pete Mervenne Era, Dave Roberts/Don Henke Era, and Crazy George/Big Jim Era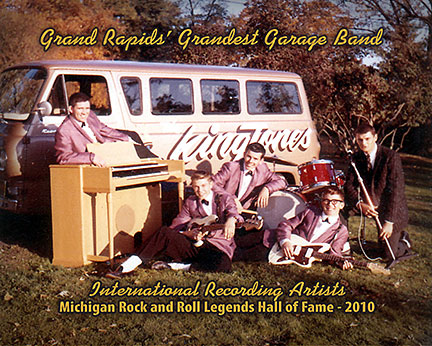 1957 to 1968 was known as the Pete Mervenne Era. Pete was the lead singer of the band. During this time, the Kingtones put out 5 records, signed a record contract with Cadet Distributing from Detroit, and played top 40 Dance Music to capacity crowds at the hottest night clubs in the area and  in Ft. Lauderdale, Florida. They also performed with and provided background music for many recording artists of the time: Del Shannon, the Beach Boys, Bobby Vinton, Larry Verne and Bobby Vee were among the many they worked with. From left to right: Bruce Snoap (keyboards); Bob Major (bass); Mike King (drums); Phil Roberts (guitar); Pete Mervenne (lead singer).
1968 to 1981 was the Dave Roberts/Don Henke Era. During this time, the Kingtones put out 2 records, signed a record contract with Atlantic Records, had their 1st record on Atlantic go International, and continued to play dance music of the 50's, 60's and 70's to capacity crowds: Left: Dave Roberts (bass); Back Center: Bruce Snoap (keyboards); Right: Phil Roberts (guitar); Front Center: Don Henke (drums).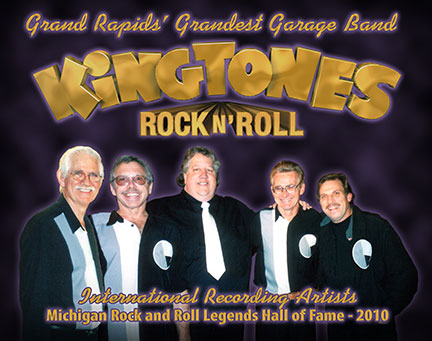 1981 to 2008 was the Crazy George/Big Jim Era.  During these years, the Kingtones   continued  perfecting  their  dance  beat  and  sound.   With   the   strong  drum beat  provided   by  Crazy  George  and   the  Elvis   like   vocals   sung   by  Big   Jim,  the Kingtones  continued  playing  night  clubs,  private  engagements, VFW  Halls  and Special Events.In 1990, the Kingtones played to a record crowd of over 300,000 people in WOOD Radio/Smith Industries "5th" of July Gala. In 1992, DISCoveries, a nationally renowned record collector's magazine, published an exclusive 2 page article about the band. In 2003, WGVU-TV aired a documentary of the Kingtones. This program won the Aegis Award of Excellence in the Documentary Division. In 2006, the Kingtones received a "Certificate of Appreciation" from the Creston Memorial VFW Post 3023, in recognition of their outstanding support for the Veterans of Foreign Wars. In November of 2007, the Kingtones played for their 50th Anniversary/Farewell Dance Party; Tickets for that event sold out in 7 hours. In June of 2010, the Kingtones were inducted into the Michigan Rock and Roll Legends Hall of Fame. They were the top vote getter of all the groups nominated. From left to Right: Bruce Snoap (keyboards); Crazy George (drums); Big Jim (lead singer); Phil Roberts (guitar); Jay Fortier (bass).
WE WOULD LIKE TO HIGHLY ENCOURAGE YOU TO VISIT THE KINGTONES WEBSITE FOR MORE INFORMATION at:  http://www.thekingtones.com/
The following is an interview conducted with Phil Roberts, Jr. via email
between June and July 2000. Phil has been playing with the Kingtones since 1959.
Jake: Hi, my name's Jake Brown and I live in Grand Rapids and I'm researching the local rock and roll scene back in the mid-sixties. My friend's dad was a member of a band called the Paeans who recorded a single at Fenton in 1965 but it remains unreleased, and that got me thinking about other bands around here at the time…
Phil: Don't quite remember the Paeans.
As a member of the Kingtones, I'm sure you have a unique perspective on the whole scene. A guy named Kip Brown tells me that you ran a studio in town where the Ju-Jus recorded. Is that true? Were there many studios recording rock and roll in West Michigan at that time? I only knew about Fenton.
About three. Dave Kalmbach (Fenton), who was no doubt something of a genius on matters of electronics and sound, mine, and Cinerama sound were pretty much the main ones back in the sixties.
I know that Fenton's studio was in the old Theatre in Sparta. Where was yours located?
444 W. Leonard across from Lannings.
What was the name of the studio?
Midwestern Sound Studios
Where was Cinerama Sound located?
Division Ave near Burton Heights. It was a break off from my studio owned by my previous partner, Denny Cuson.
Was there a lot of competition between the studios trying to book the coolest bands?
At times.
Other than the Ju-Jus, do you remember the names of any of the bands you recorded during the sixties?
Yipes!!

Phelgethon (Aris Hampers), The Fredrick (their albums were going among collectors for $1,100.00 a copy last I heard), Band X, Ray Hummel III, Me and Dem Guys, Jackey Beavers, The Kingtones, Lynn and the Invaders, Ruth Ann and the Invictas, The Roy Sorenson Group (that was a laugh), Bethel Pentecostal Choir (the Debarges before they went Hollywood and became Debarge), etc., etc.

Bunny Debarge was the lead vocalist in the choir when I recorded them. Don't know for sure if El was in the choir at that time. Reverend Abney could probably fill you in though.
I thought Debarge was an 80's band. What years were you recording them?
Probably early 70's, before any of them went Hollywood.

Also, I used to record Junior Walker and the Allstars without Junior ("What Does it Take" and "Shotgun") who were dissatisfied with both Junior and Motown and were trying to use my studio as their breakaway.
Did the Allstars stuff ever get released? If so, what was it called and what label did it come out on?
Jackey Beavers ("What Does It Take" – Supremes) used them as his back up. Also, I remember a couple of instrumentals which were just incredible. Eddy Hollis (organ), Jerome Teasley (drums) come to mind. I remember one of them telling me they used to have Jimi Hendrix (before he got big) touring with them at one time, and hated it, because he was always making these god awful sounds with his guitar whenever they took a break. Funny stuff.

Also, I recorded Al Green's (now in the rock and roll hall of fame) first album and first 45.
That's a pretty huge deal! Did you get a chance to see Al Green's concert here last week or were you still in England? Do you remember the name of the album (was it Back Up Train, released in 1967 on HotLine?) or the songs you recorded?
Yep. And I remember that the best song on Al's album (in my opinion) was "Stop and Check Myself", written by Al himself. Hey. Can I spot talent?

Oh! John R, the most famous R and B disk jockey in the universe (60's, 70's) working out of WLAC Nashville, (50,000 watts of soul) came all the way to my studio with one of his groups to capture "the Grand Rapids sound" (written up in Billboard Magazine).
Can you describe what he meant by "the Grand Rapids sound"? What records was he referring to? Do you remember approximately what year he said this? Who was the band he brought to your studio?
I think they were referring to the soft soul sound of Al Green's "Back Up Train", with the strings and all.

There's a million others, but coming up with names is a bit of problem at the moment.
Do you still have the masters?
No. Most of them ended up in the hands (I gave them to him) of Big John Lubinskas (brother of Ruth Ann and the Invictas), recently deceased (month or so ago).
Do you at least have copies of the records of most of the stuff you recorded?
Nope. Sorry. Might have a Kingtone or two, but that's about it. Bruce might be of more help on this.
My friend's dad told me that his band the Paeans used to play at "The Place" on Plymouth, "The Guest House" on Bridge, and the 44th Street Armory. Were there other places that booked local rock and roll bands?
The Civic WGRD dances were the creme de la creme. We did a complicated routine to "Walk Don't Run" only to find when we got off the stage that Bruce had is fly open through the whole thing. 🙂
I tried to look up some info in a copy of the Grand Rapids Press from 1966, but there didn't seem to be a lot of coverage of rock and roll. Were there any music papers at that time like today's "Music Review" or anything like that? How did kids find out about shows?
Not sure. Bruce probably has most of the old newspaper clippings on us. Some of the artists we have played with through the years are Bobby Vee, Bobby Vinton (yuk), Del Shannon, Lou Christie, The Beach Boys, Johnnie and the Hurricanes (you really ought to look into these guys, they were my heroes for quite some time until some dude got a hold of them and gave them all Fender instruments and tried to put an orchestra behind them — boy did that suck), Bobby Bare, Buzz Clifford, Brian Highland, etc. Bruce will probably remember them better than me.
I put up a website devoted to Grand Rapids rock bands from the mid-sixties. Have a look and let me know what you think. There are a lot of "holes" in the data that still need to be filled in, and there are a lot of details I'd like to add. Eventually, I'd like to have a unique page for each band, and have it display all the info I've found out about each band. That will take a while though!
Lookin' good. I didn't even know some of the stuff you've come up with. Great research.

Other bands:

Tom Carter and the Ramrods
The Eschelons (Lonely Christmas)
Me and Dem Guys (Black Cloud)
The Roy Sorensen Group
Loyd Brown Trio (bar group) – played at the Blue Note during the twist era and at the Coral Cables East Lansing during the twist era
John Brown Trio (bar group)
Band X (Ludington area recorded here though – Jay Fortier, etc.).
Are you familiar with the recent "garage rock" revival? There are a lot of new bands that try to capture that mid-sixties, "lo-fi" sound, playing vintage instruments, and even wearing vintage clothes!
Nope. Nowadays my interests lie in the area of philosophy and evolutionary psychology. In fact, I'm presenting a paper in Sheffield England 26th June [2000] on "The Psychodynamics of Genetic Indeterminism" (now there's a rip snorter) at 'The Institute of Biotechnological Law and Ethics' (yipes, those words are as long as most of the sentences my recording customers used to use). 🙂
Friends of mine were in a band called Fortune & Maltese who dressed like Paul Revere and the Raiders and played old Vox guitars and Farfisa organs. They played mostly original material along with a few obscure oldies that no one recognized. The punk rock kids loved them. Do you think it's strange that the mid-sixties local music is now sometimes thought of as the original punk rock? I guess it has something to do with the "do it yourself," independent attitude that comes across on those old records…
Not really. I loved some of the early Ramones, where every song was at full volume and sounded like every other song on the album. They were a hoot.
I hear the Kingtones still play shows regularly. Where's the next one? I'd like to check you guys out.
Still going but hanging by a thread. We're still well received, but because we don't learn new material our audience keeps getting older and older. Just lazy.

Recently we got a new bass player who brought in some new material and it seemed like we were starting to pull in a younger and bigger crowd, but he was a bit flaky, not always showing up, and all, so we are back in limbo at the moment. No bookings, although we are thinking we will probably book a few weeks in the fall at Hilliards (south of G.R. near Waylon) just to be out in the boonies while trying to break in a new guy.

Our main stomping ground has been Harvard Tavern, but we had to cancel the last booking a few weeks ago because of the flaky bass player problem.
Last updated on May 24, 2004.
Posted with permissions from "Grand Rapids Rocks" www.grandrapidsrocks.com
__________________________________________________________________
The Kingtones were together for many years,  were one of the first rock bands in Grand Rapids, and utilized various musicians over the years. This is a list supplied by their original organist and band historian Bruce Snoap, of some of the musicians that played with the Kingtones for at least one and a half years. This list includes the years that they served with the Kingtones and includes other bands that they have played with:
1. Al Vandetti – Frankie & the Chancellors (Bass, Vocals), John Brown Trio (Bass, Vocals), Frank Eimer Trio (Bass, Vocals), Kingtones (Bass, Vocals), Legends (Bass, Vocals) (2011-20??)
2. Bob Green – 1st (Drummer) The Kingtones ever had. (1957-1959)
3.Bob Major – The Kingtones: Saxophone, Bass (1957-1967) Flashback: (Bass)
4. Chas (George) Egy – The Kingtones (Bass, Vocals), The Fabulous Eastones (Bass, Vocals)
4a. Denny Herringa – The Kingtones (Bass, Vocals)
5. Denny Newville – The Kingtones (Drums)
6. Dave Yeakey – The Kingtones (Drums)
7. Don Henke – Donny & The Echomen, The Kingtones (Drums, Vocals) (1968-1972)
8. Kevin Bouwkamp – The Kingtones (Bass, Vocals), Livin' The Dream (Bass, Keyboards, Vocals)
9. Louie Pane – The Kingtones (Drums)
10. Mike Franz – The Kingtones (Piano) (1958-1959)
11. Mike King – The Kingtones (Drums) (1959-1968)
12. Pete Mervenne – The Kingtones (Lead Singer) (1957-1968), Flashback (Drums, Vocals)
13. Willie Minier – The Kingtones (Saxophone)
14. Bobby Stiles – Me and Dem Guys (Bass, vocals) Kingtones (1982-1985)
15. Jay Fortier – The Kingtones (Bass, vocals) (1993-1999, 2002-2004)

%%wppa%%
%%album=11%%
(Visited 1 times, 1 visits today)