Ludington (Owner Jim Geeting, also manager of the JuJus, was also a Bail Bondsman)
Early on, the band JuJus hooked up with a successful and colorful Grand Rapids bail bondsman by the name of Jim Geeting. He became the only real manager the JuJus would ever work with. Geeting, who owned a pistol because of his day job, set up the gigs and put a lot of effort into promoting the band. He always insisted that the band dress as a group, just like the early Beatles. Geeting told the JuJus that it was a lot easier for him to book what he called a "clean band".  Jim then took the guys to Wepmans, a clothing store/tuxedo shop on South Division in Grand Rapids, and got the band the uniforms that they wore in many early appearances and publicity photos.
Rod Shepard reflected in a recent interview that Geeting, who was married, in his thirties, and lived in a large modern home, may have enjoyed living vicariously through the band. Geeting wasn't a musician, but he wanted to be involved in the burgeoning rock and roll scene.  He even took Max, Bill, and Rod along with him "skip-chasing" a few times – tracking down some of Jim's clients who had skipped bail.
By 1967, the JuJus had lost another original member when Bill Gorski left the band. He was replaced on drums by Ron Homrich. After Bruce Essex and Brett Wells also left the group, Ronn Burke joined the JuJus as the new lead vocalist. Just as it seemed that the wheels might be starting to come off the band, manager Jim Geeting came up with a great idea. Geeting put up the money to open a new teen club in Ludington, Michigan, and called it 'The Island'.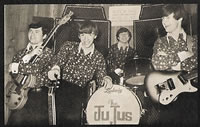 Since Jim's work kept him in Grand Rapids, he put the JuJus in charge of just about everything at the club. Rod Shepard remembers that summer running the Island as "sometimes a ball, sometimes a great pain, but mostly a ball".
The JuJus all lived in a dilapidated, rented house, and they played at the club six nights a week. It was Geeting's idea to book name bands like the Kingsmen and the Electric Prunes into the Island with the JuJus serving as the opening act.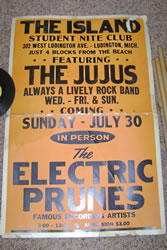 It was a big risk presenting name entertainment in a small market like Ludington, however. Geeting lost money on most of the big shows at the teen club, and he battled the forces at city hall who wanted to shut it down. Rod Shepard summed up the Island experience best when he said, "In the end it worked for us and the kids of Ludington and the surrounding areas who had a decent place to go that summer".